As I crawled in the Virtual Dumpster I call the Internet...I used Google! OMG!
I was on the Google Maps Street View checking out if I could remember the place my grandma lived on a short road in Berkeley, California when I was 4 and 5. Couldn't find it, but found the next house we lived in 1964-1965.
Google is the bomb. Out of all the search engines and home pages...They have YouTube. They have Google Maps. The have Bluezy's Virtual Dumpster Dive, too!
From New York Times article "Freakonmics" June 5, 2007:
[link here to read their article]
"Our goal is always to provide the best user experience possible. Street View provides users with a rich, immersive browsing experience directly in Google Maps, enabling greater understanding of a specific location or area".
I knew that this had to be a tremendous undertaking. We who can just click now and get there, can take for granted this HUGE project. And this project is forever growing and updating itself.
The famous nine-eyed Google Street View car. Photo: Sancho McCann (CC License)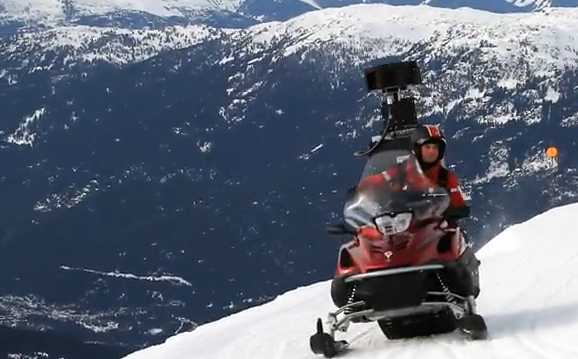 google cam vehicle for ski places 'steet view' [source]
Google vehicle for theme parks 'street view' [source]
There are actually websites that deal with the things that they find on Google Street View.
Here are some to check out! A whole world sized "Where's Waldo" game!
[Link here to Google Sightseeing]
[Link here to Google Street View Sightings]
[Link here to Street View Funny Website]
"A Street With View" Collaborative Project [link here for more] :
"On May 3rd 2008, artists Robin Hewlett and Ben Kinsley invited the Google Inc. Street View team and residents of Pittsburgh's Northside to collaborate on a series of tableaux along Sampsonia Way"
I just thought the above posing could of been a lot more dramatic and artistic...

Below is what JUST came out, so go to Google Maps and on the left side click the
"new" museum link!
And if you don't know where he is....
Banksy can be found on Google Maps and seen with Street View (his graffiti that is)